At this point, this is our final hatching of the year — the eighth the Lord has graciously granted!
Here's the mommy with her chicks! I believe it was four hatched out, and four still going strong, thanks to God! In the second picture, you can see a couple of them at the bottom eating an egg the mama had laid but they crushed as they were trying to get away from me when I was taking these pictures: 🙂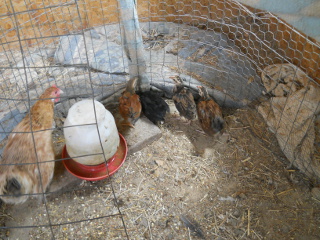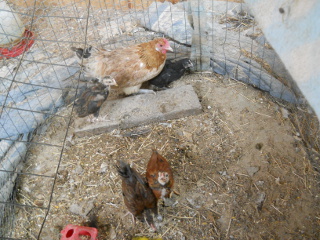 Weird story: one day I walked in to check on them, and one chick seemed sort of stuck to the cage fencing. As I examined closer, indeed it was — a strand of chicken wire had double-pierced through its little chest and was holding it fast! Wow! So, I pulled the wire through, sprayed with hydrogen peroxide, and prayed for the best. And the Lord granted it recover fine, thankfully. Still, that was a new one for animal experiences! 🙂
Here's a video of them, including after moving all of the rest of the chicks out into the pen area this past Saturday night after dark. The fifth hatching had been there with their mama for some time, but I pulled that hen, and moved all of the rest of the chicks, including this eighth hatching, from the summer kitchen to join them, putting all of the mommies back into the main chicken tractor.
We are once again very grateful to the Lord for all of the chicken provisions He has graciously granted this year! May He glorify Himself in these processes and granting of these provisions!
— David