The Lord graciously granted huge amounts of rain in May! Of course, this is great for plant life (as the Spirit's cleansing and nourishing water is for the soul!), and it really shows in the sorghum almum (Columbus grass) field we planted earlier in the year…
As a reminder, here was Sue planting at the time: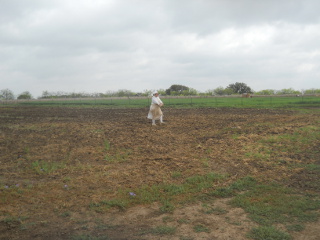 And here is what God has granted as a result of His providence! Wow! Lord willing, the goat bucks in the video will soon be enjoying it, and the doggies, or at least Brodey, in the video are having fun running around in it — he's soaked with dew every morning! 🙂
We're grateful to God for what He has granted with this grass, in helping us hopefully get further sustaining here on the land!
— David