I have a musical background and will sometimes set out to write a song, like with Moses' Song, or sometimes I just come up with little tunes, usually as I'm putting away animals at night or walking the dogs or what have you.
Recently after having a few of them, and since they were ones that I had continued to be able to remember them over time, I thought I might try to put some words to them, or find words for them.
This first one in this blog post is one I came up with for William our cat. At one point I dubbed him "The Williminator," said with emphasis on the last "tor" — I imagine a cartoon superhero announcer saying "It's the Willimina-tor!" 🙂 I called him that because he liked to Williminate mice, and he would often Williminate out his backend what were to us quite noxious fumes, and you would never know when one was coming! 🙂
At any rate, I recorded it one time just so I would have it stored somewhere. I'm sort of only including this because of the very end — see if you can hear it. Please excuse the singing 🙂 :
Could you hear it? When I did that recording, William was there, and that was he at the very end of it, unsolicited. I don't know if that meant he approved or what, but it was kind of neat he exclaimed right after I had sung his theme song.
And so, with wanting to do something more permanent with it, and with it to us sounding like a lullaby, I added a few lyrics to it along that vein, wanting to have it spiritually based, and this is how it ended up:
Hey you sleepy head
Time to go to bed
May God keep you through the night
In His arms of might!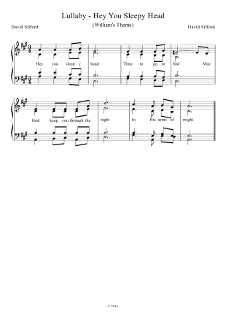 Here's a PDF:
Lullaby – Hey You Sleepy Head (Basic) PDF
And this is a musical audio of the arrangement:
Lullaby – Hey You Sleepy Head (Basic) MP3
And a vocal version:
Lullaby – Hey You Sleepy Head (Basic) MP3 (vocal)
I also did a little bit more of a fancy version: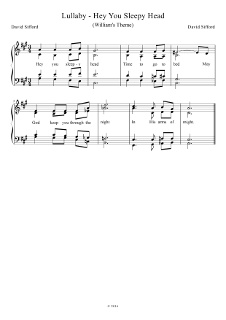 And its a PDF:
Lullaby – Hey You Sleepy Head (Fancy) PDF
And its musical audio:
Lullaby – Hey You Sleepy Head (Fancy) MP3
It's a simple little thing, but I'm glad I could take William's theme song and do a little something with it. 🙂
I am thankful to the Lord for Him granting I learn music, to my parents for making that happen, for the opportunity to participate in music in this way, for the gift of little William and his inspiration, and for the gift of this little lullaby.
— David