Over the months, I put together another melody that I kind of liked and was able to remember. This one I would sing to Albus, the white musical rooster that used to crow the beginning of Beethoven's fifth symphony, when he would come up to me at night and want me to pick him up and set him in my lap before putting him up for the night. The lyrics were simple: "Albus, and Albus."
When that stopped, we had a hen that would stay with the goats at night, and I would carry her in from the goat field to the chicken tractor to put her up. This poor little hen's eye had turned into a grey, round orb, and I'm pretty sure she couldn't see out of it, or see well, and I believe would cause her panic. But because of that, I called her "Globey," and her lryics were "Globey, and Globey." As I would walk with her singing the song, when I would get to the held note at the end of the third stanza, I would put my mouth above her head and do a '70s stereo effect, moving my mouth left right left for each beat of the measure. 🙂
Here is a picture of her and her eye: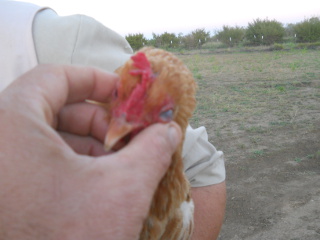 And here is a picture of Sue after Globey "let go" all over her after catching her. 😀 One of the fun-factors of farm life!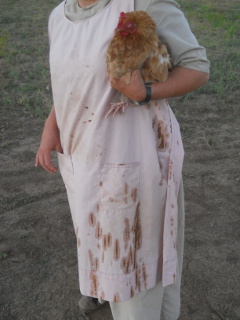 Recently, she stopped hiding in the goat sheds at night, and started hiding in grasses in the goat fields, and we were unable to find her at night. Sadly, it appears the dogs got to her one morning, or found what was left of her. She'll be a fond memory though because of carrying her in at night, and her relation to this tune.
And so, with this one being a tune long enough to have an actual verse and chorus, and again wanting to do something spiritual with it, I set out to try and find hymn lyrics that would fit the meter of the song. Usually, you start with lyrics and write the song to it, so trying to fit lyrics to this tune in particular actually proved to be quite difficult, as the meter was not very standard (10.10.10.10.10.8.10.8), which limited it to only a few I could find, and since I wanted the words to be doctrinally correct, and the author not tied to improper doctrine.
Eventually though, I found one I could go with: Almighty Father of All Things That Be, by Ernest Edward Dugmore. With some tweaking of the original lyrics, and turning the tune's chorus meter to 10.9 instead of 10.8, I was able to acceptably fit the lyrics to the tune.
And here it is: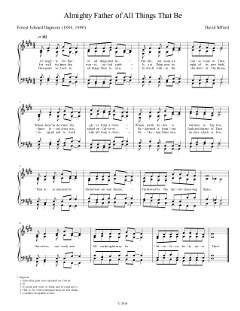 Here's a PDF:
Almighty Father of All Things That Be PDF
And this is a musical audio of the arrangement:
Almighty Father of All Things That Be (instrumental) MP3
And this is a vocal version:
Almighty Father of All Things That Be (vocal) MP3
It was pleasing in the end to take the "Albus/Globey" tune and have it seem to work out fairly nicely, at least to me. 🙂
I am thankful to the Lord to have been able to take this little song and actually find some lyrics to fit it, and I pray perhaps it might be something that brings glory to Him!
— David