With us not really having a great way to manage the turkey flock we have now, after a rogue Black Turkey heritage breed hen just showed up at our homestead one day, it becomes difficult when the females start getting broody. They often find quite remote places to nest, and sometimes just hide in the grass somewhere in a field. Although we have lost one to that situation, the Lord's been gracious to allow us to usually track them down as they perhaps come back in the morning to eat or drink or what have you before returning to their nest, and then we can follow them.
Now though, we try to make sure to collect any turkey eggs we find, and then, if we find a turkey on a nest, haul her in and any eggs in the nest, and put them in the summer kitchen, and add any other eggs we have.
Well, we did that this year with Olivia, the female from last year's hatching, who had quite a few of her own eggs.
And while she had 5-6 under her, only one hatched out, but by God's graciousness, this little turklet (I call them "turklets", like "chicklets") 😉 made it all along, is still going today, and is almost adult size! We believe now it is a "she" turkey, and she is our first grand-turklet!
Here she is with her mommy back in August, obviously a little older than just a hatchling by this time: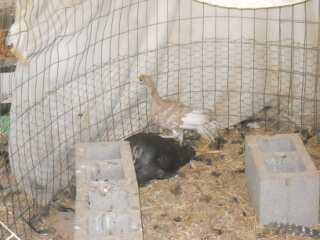 As you can see, the turklet liked to walk all over Olivia 🙂 :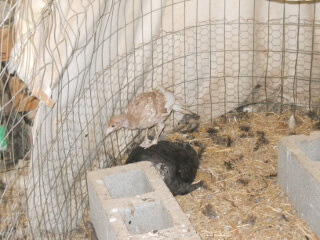 One sad note: we did the same "grab and put in the summer kitchen" with one of our other hens, Tasha, and she hatched out 2 turklets, but not long after they were born, each disappeared. We assume a snake got them, but I never found the culprit in there, and often we do. It's still a mystery, but it was not the Lord's will they continue, and we agree whole-heartedly with Him in His sovereignty, wisdom, and goodness!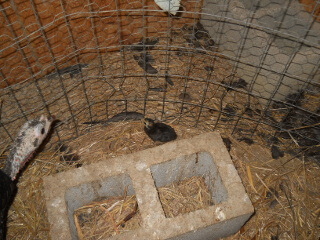 And here is the video of Olivia and her hatchling, which progresses from the pictures above to when we permanently let them out of the summer kitchen to just this week! The video does include the other mama and one tiny little turklet that was left at the time:
And as always, we are very thankful to the Lord for His graces and mercies and the perpetuation of the animals!
— David