After we had a turkey mommy accidentally hatch out a chicken chick, we discovered in the barn next to the north footer in the middle a set of turkey eggs being sat on by both a turkey and a chicken. Since the turkey mommy worked well as a surrogate to the chicken chick, I started to wonder if maybe a chicken mommy might make a good surrogate for turkey chicks, especially because a chicken hen is much easier to work with than the larger and stronger turkey hen.
Well, the little things started to hatch, and eventually the chicken mommy ended up near the big door across the barn to the east with the chicks under her, and the turkey mommy kind of hanging out behind her. So, it was round up the youngin's and the chicken mommy and get them into the summer kitchen (now basically what is a brooder barn).
There were 6 of them, and we initially started them in a cage on the table, which you can see in the video below.
Then not long after, another turkey/chicken mommy group in the barn hatched out 1, and it was walking around on the hay stack next to them, and so we grabbed it and put it in with the brooder barn mommy, hoping she would accept it, and she did!
And then, another 1 from that same 2 mommies in the barn, and so it was off to the brooder barn.
And so now, there are 8 turkey chicks with their chicken mommy in the brooder barn all still doing great! That last one is a little tiny, and I wasn't sure if it was going to make it, but it's still going!
And, along with the picture above, here is another picture of them. However, the chicken mommy at this point seems to be losing interest in attending to them as a mommy, and has been jumping out of the caged run area, so we may just let her go soon, although we do like the idea that these mommies being there might protect the young from snakes: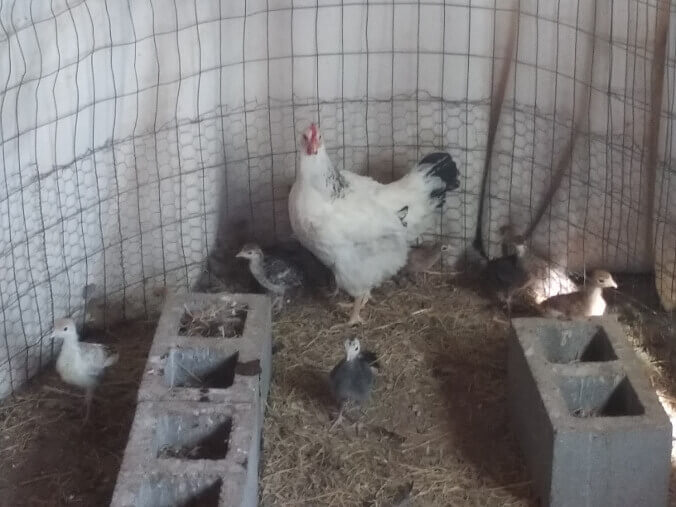 And here is their video:
We thank the Lord for granting these new little provisions, and for the idea and gracious success of a chicken hen taking care of the young turkey chicks!
— David