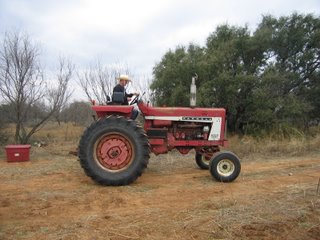 Well, with the open fields we had, and the size of them, in our typical city (industrial) mindset, I decided we must need a tractor: something to pull implements to plow, till, plant, trim, etc. the fields. We found a 94 horse power diesel tractor in the "Thrifty Nickel" (the local classified ads publication) for a pretty good price. We went to look at it and met the owner, who was a gentleman farmer in his 80s, still a foreman on the jobs he ran. We found out that he was liquidating his farm basically, and so he not only had his tractor for sale but also a 250-300 gallon diesel tank with a 12V pump. So we bargained, and we were able to purchase the tractor and the diesel tank, which incidentally was probably 2/3 full of diesel.
The tractor is a Farmall (International Harvester) 806, probably made some 50-60 years ago, and still running great.
My mother-in-law had previously bought me a couple of sweat shirts that fit somewhat into our new lifestyle, one a John Deere, the other, it just so happens, was a Farmall: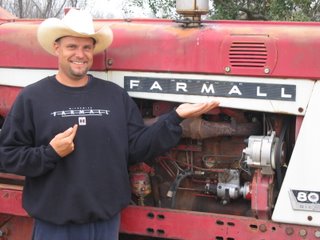 And here is our own "gas" station: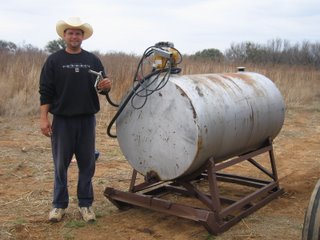 We've since been able to get a tandem disk plow and grain drill, and so we are grateful to the Lord to be able to work our fields.
One day we hope, Lord willing, to be able to pull field-working implements with animals we have raised and trained; or if there are other "old path" ways to work the soil, we hope to implement them.
Oh, and Sue wanted me to include this picture: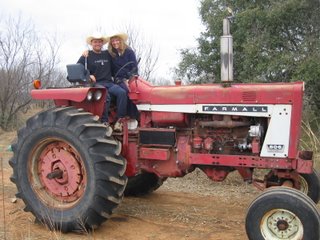 — David