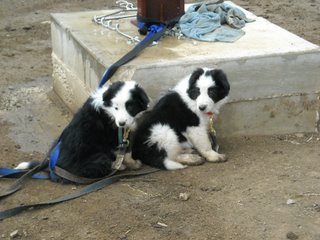 When we attended the Homestead Heritage Craft Fair this last November, I had the opportunity to observe their sheepdog demonstration. Needless to say, I was impressed with their ability to round up animals. With our attempts at rounding up animals either gruelingly on foot or industrially with trucks, I thought that having sheepdog capabilities around the land would be of great benefit to all involved for all of the various animals we have to sometimes corral and/or separate. The Homestead Heritage folks had decided on Border Collies for their herding breed, and so I figured I would follow suit at some point.
Well, that some point came quicker than I had expected. Recently, an ad was placed in the local classifieds paper for registered border collie puppies. Even though they were pricey as registered dogs, I called, in case the owner had or could recommend non-registered ones which would cost less. When I talked with the owner and explained what I was looking for, it so happened she was moving and was willing to sell one or both of the remaining registered pups from the latest litter for 40% off. We thought that was just too good to pass up. At first I thought we'd only get one, but then reconsidered, given the deal she was offering, that the two dogs would have each other, and to allow us to potentially breed them; and so, we decided to get both the male and female she had left.
And here they are. We decided to give them Scottish names because Border Collies originate from the border area of England and Scotland, and we named them different sounding names to help them differentiate between themselves when being commanded. Please meet Brodey (pictured to the right above) and Nessa (pictured to the left above). They're quite playful and friendly, and we look forward to being able to train them to be functional animal members of the community:
Here is a video of them just after arriving here on the land:

The Lord is gracious in granting us these animals, especially in the way He did; and we pray for guidance in training them.
— David