You may be wondering why I'm talking about our 2010 Spring garden now instead of several months ago. Well, our garden seemed to have a mind and time line of its own this past year; and I just recently finished processing the last of our tomatoes. I plan to write a separate blog post on those but am just now getting down to chronicling the rest of the garden in an update. I figure for us gardeners, what better time to dwell on Spring, gardening, new growth and warmth than in the thick of Winter!
Onions
Believe it or not, these onion plant blossoms are from our 2009 Spring garden! But they have faithfully kept producing, so we decided not to pull them and continue to let them grow. The underground onion bulbs are rather small, but I have been able to pull and use them in many meals over the past couple of years: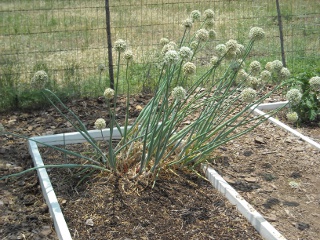 I clipped the plants down to the ground but left the bulbs in case they would continue to produce green onions (which they have as of this update). Here is a bowl full of the blossoms I am saving to plant again in our Spring 2011 garden to see if they will reproduce: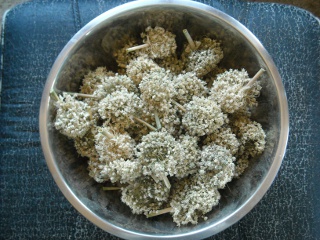 I cut up and dried the stalks in our solar food dehydrator, but they came out unusable in my opinion. I let them get too fibrous and leggy before picking them. Note to self: Don't do that!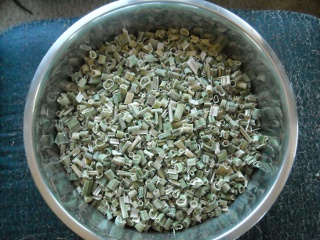 Zucchini
Due to a drought and large numbers of grasshoppers, our zucchini harvest was a fraction of the size of years past; but I picked these last few: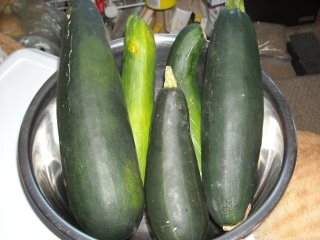 I decided to go the quick and easy lactic fermentation route and made some zucchini pickles and relish. I can't believe how easy it is to preserve by lactic fermentation. You just add about two teaspoons of canning salt per pint in alternating layers with whatever vegetable you are using; fill the jar to about 1/2″ head space with water (preferably not tap water but distilled or filtered rain water); close with lid and move to a cool, dark place to ferment and develop those wonderful bacteria and enzymes for your gut and digestion. Once done, I put the jars all down in our root cellar. Due to our interest in zucchini, we traveled across the globe (ie: to the other side of our RV) to see the eighth wonder of the world, "Zucchini-Henge." We were startled when we witnessed a rare sighting of the gargantuan feline monster on the left!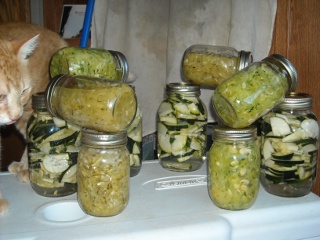 End of the Garden Pickles
Here is our last harvest of green beans for the season. Since there weren't that many, I decided to experiment with lactic fermentation with two pint jars full of beans, water and salt, combining the rest with other garden vegetables to make some "End of the Garden Pickles" from the recipe in the Ball Blue Book of Preserving: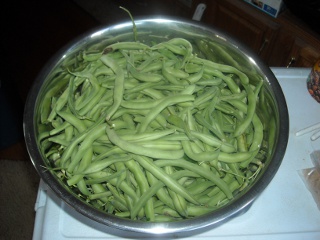 Here are the green beans all washed, cut and ready to go: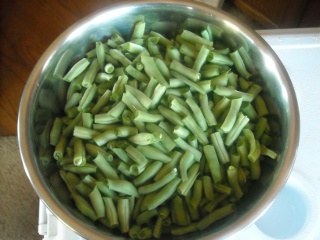 Can you find our freshly picked garden carrots in this picture packed with all things orange?!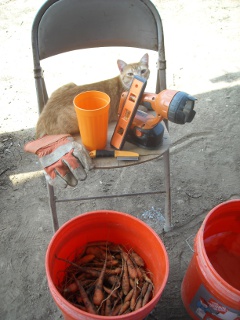 Here are all the ingredients ready to go for the "End of the Garden Pickles" recipe. In this batch I included green beans, zucchini, carrots, peppers and onions: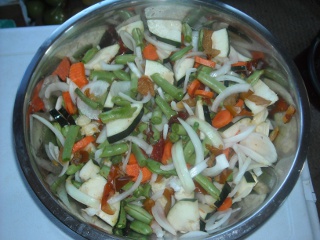 And here are sugars, spices and vinegar combined and ready to be mixed in with the vegetables: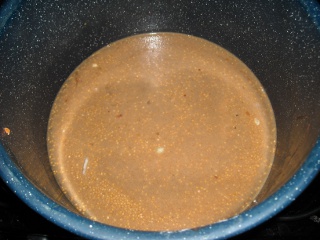 I brought the liquid to a boil and then added the vegetables and brought it to a boil again. Then I turned down the heat and let it simmer for about 15 minutes: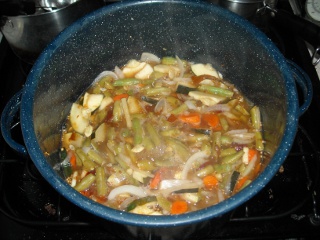 It was then ready to be ladled into hot jars and pressure-canned! How easy is that!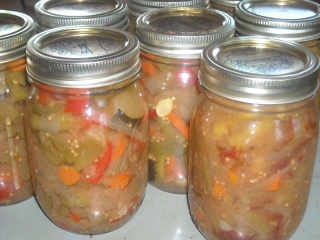 Tomatoes
Here are some tomatoes given to us by a neighbor. As I hinted at above, our own tomato crop didn't produce until November, so we were very thankful to have received these: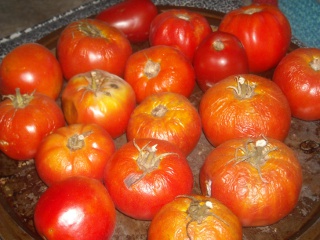 I decided to make some Sweet Yellow Tomato Chutney out of these tomatoes. All my chutney recipes so far are taken from the Ball Blue Book of Preserving. I think these recipes are top notch and delicious. A friend suggested putting some tomato chutney in with pasta sauce. I have done that many times and find it adds a delicious "tangy twist" to traditional pasta sauce: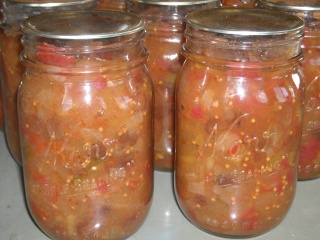 Bread and Butter Pickles
Lastly, I honestly can't remember where I got the cucumbers to make this batch of "Bread and Butter Pickles" (page 47 from the Ball Blue Book of Preserving). The cucumbers from our garden just did not do well, but someone must have given these to me, or I got them on sale or something. Another delicious recipe!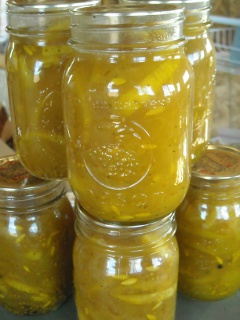 Thanksgiving
We are thankful for this late harvest from our garden, and once again are very careful to thank our Creator for His direct provision. It is now Winter, and we have accessed and incorporated much of the above from our root cellar into our meals. We are also looking forward to the opportunity to do it all again this Spring, Lord willing!
Susan