With the addition of our cat Tuscan, and God granting little melodies for many of our other animals, He did so again for Tuscan, a little tune with the lyrics:
Tuscanosis, Tuscanosis, Tuscano-o-o-sis
(I had "Little Mimi" for Mimi's song, "Williaminator" for William's, and "Brodey-so-squodey" and "Nessa-bo-bessa" for their's, so I went with a little something different. 😀 )
And then once again, it was just a matter of trying to find some words. This one was a little difficult, because the meter for the melody is really 4-4-6, which looking around on the internet for hymns like that produced few results. And so, with there being many with 8-6 meter (common meter), I set out to find one that was 8-6 but sounded 4-4-6.
After a lot of searching and collecting four possibilities, I narrowed it down to the one I liked best, which was I Long for God, The Living God, by Thomas MacKellar, which I found here.
And with just a minor tweak of one line, and futzing with the melody a little to make it work better with how the words sounded, here are the results!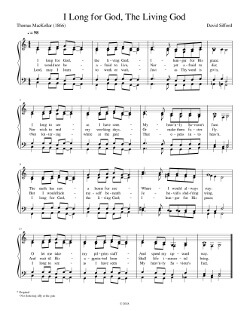 Here's a PDF:
I Long for God, The Living God PDF
And this is an instrumental audio of the arrangement:
I Long for God, The Living God (instrumental) MP3
And a vocal one of just the melody with the music:
I Long for God, The Living God (vocal) MP3
These lyrics have a little more extra meaning to me, which is partially why I chose them…
To me, there is nothing more important in this life, and all eternity, than having God — having the Lord Christ, having His Spirit indwelling in us, abiding in Him, having all our life and existence in Him.
But the difficulties of this life and the temptations of the devil, can spurn us to enter the slough of despond, where we might wish to have this life end and go to be with Christ now.
Ps 55:4-8 – "4 My heart is sore pained within me: and the terrors of death are fallen upon me. 5 Fearfulness and trembling are come upon me, and horror hath overwhelmed me. 6 And I said, Oh that I had wings like a dove! for then would I fly away, and be at rest. 7 Lo, then would I wander far off, and remain in the wilderness. Selah. 8 I would hasten my escape from the windy storm and tempest."
Not only do I believe despondently desiring the end of this life is sin and self-seeking, for which I am responsible and must seek repentance, but we are called to be His servants here on this earth for as long as He sees fit, and we must strive to the end, with His help and by His graces.
Ps 55:22 – "Cast thy burden upon the Lord, and he shall sustain thee: he shall never suffer the righteous to be moved."

2 Cor 12:9 – "And he said unto me, My grace is sufficient for thee: for my strength is made perfect in weakness. Most gladly therefore will I rather glory in my infirmities, that the power of Christ may rest upon me."
May we be found in obedience to Him and doing our duty toward Him all our days, for His glory, and we pray for His strength and faith to do so!
Ps 73:25-26 – "25 Whom have I in heaven but thee? and there is none upon earth that I desire beside thee. 26 My flesh and my heart faileth: but God is the strength of my heart, and my portion for ever."
— David